48 Hours in Cairo
Let's be real for a minute. Cairo is a tough city. It's big, it's busy, it's dirty, and it's intimidating all around. After reading a few travel blogs and wanderlusting over pyramid pictures on the gram, I was actually really excited to get to Cairo. Like most places, bloggers and influencers made it seem like a magical land full of wonder and happiness. I think you can see where I'm going with this… I didn't enjoy Cairo as much as I thought I would.
We got to Cairo two full days before our tour started. I wanted to make sure we had time to explore on our own without a large group to hopefully have a more authentic experience. We were greeted at the airport, before customs, by a woman from our hotel holding a sign with my name on it. I couldn't believe she was able to meet us before we even cleared customs, but she helped us with everything from getting our visas to getting our luggage. I immediately felt like I was in good hands, that this was a country that knew how to do tourism well. That feeling dwindled, however, upon leaving the airport in a taxi driving like Vin Diesel into the most chaotic city I've ever visited.
We booked the cheapest hotel in Cairo so I wasn't too surprised when the elevator didn't have a door and our sheets smelled like sweat. Our first night there, we passed out early, falling asleep to the sound of parties in the streets that would go on until 3am. The next day, I was excited to explore a new city and culture, but immediately felt lost upon leaving our hotel. Everything was closed, which we later learned is totally normal for Cairo, as shops open around midday and close well after midnight. People were staring and asking for pictures, they obviously hadn't seen too many Westerners in the city since the riots. The roads had no rules, people were walking and driving against red lights, a traffic system that had no merit. The buildings were all unfinished, which we later learned is actually how they sell apartments here. And it was crowded. Damn, was it crowded. There were people everywhere, spilling out into the streets, pushing up against one another, all seemingly in line for a movie theater. And they were all staring at us.
I'm a pretty seasoned traveller, and although I didn't feel unsafe, I can't remember a time I've ever felt more uncomfortable. We retreated to our room and more or less stayed there for two days, which is SO unlike us! We made more futile attempts to explore the city, but wherever we went it was all the same: streets lined with shoe stores that would be closed for most of the day and crowds of people that had no shame in gawking at us. It wasn't until our second visit to Cairo, when we went out with a local, that I saw the city's potential. It was like the fun and modern culture was hiding all along, almost like you had to earn the right to enjoy it.
I wanted to write an honest post about Cairo because despite all of the beautiful photos and rave reviews I saw and read, I found myself confused and surprised by the reality with which I was confronted upon arrival. As a travel writer, I often feel pressure to see the good in every location, to (as least pretend to) enjoy every minute of the journey and embrace challenges as new experiences… But anyone who has ever left their home knows that that's not realistic. No one enjoys every destination and every experience. Being out of your comfort zone can be really great, but being uncomfortable in a new place can be really daunting. And that's how I felt 90% of the time I was in Cairo. My goal here isn't to deter you from going to Cairo, or complain about a city that I didn't vibe with; my goal is to convey a realistic experience and make sure you're better prepared than I was.
I've put together a 48 hour guide to Cairo because I think you need that much time (no more, no less) to get the most out of the city. Enjoy!
Day 1
Morning: The Egyptian Museum
Cairo isn't a 9-5 city. Shops and restaurants will likely be closed until midday and remain open well into the night and past your bedtime if you're a nana like me. So you might as well sleep in a little and enjoy the amazing breakfast buffet your hotel will inevitably provide (Egypt is seriously the BEST at breakfast buffets!). Then head out to the Egyptian Museum to brush up on your history before exploring the rest of the country. I highly recommend hiring a guide to take you through the museum. You can book one in the courtyard upon arrival, although there's no guarantee they'll be "official" so feel free to ask you hotel if they have any specific people they recommend. A guide will be able to navigate the maze in a cohesive way and explain what's behind the glass, as the exhibits and artifacts aren't very well marked. In addition to the cost of entry, you might want to pay extra to visit the Mummy Room and see some of Egypt's most famous pharaohs, amazingly preserved through the ancient practice of embalmment. Luckily for you, the King Tut exhibit is included in the price of admission and not only is it one of the museum's highlights, it's also the only area of the museum that's air conditioned! So you can't miss it. The current building housing the museum is beautiful in a grand, somewhat dilapidated sort of way (they're building a modern museum closer to the pyramids as we speak, with an expected opening date in January 2020), so between the architecture and the exhibits, it's a photographers paradise (kind of). However, in order to take photos you have to buy a photography pass. This is a common practice in Egypt. They aren't expensive, but if you're in a group, band together to buy one and share the pictures after. Some exhibits, like the Mummy Room and King Tut Exhibit, don't allow photography so depending on your level of interest, it might not even be worth purchasing.
Pricing
*1 USD = 17.68 Egyptian Pounds (L.E.) as of February 2019
Museum Entry: 60 L.E for adults; 30 L.E for Students
Mummies Rooms: 100 L.E for adults; 50 L.E for Students
Photographing prices: Camera (without flash) for amateurs:10 L.E
Finally, I recommend going to the museum in the morning because it's the coolest part of the day. As I mentioned earlier, the museum isn't air-conditioned and you wouldn't believe how hot it can get in the afternoon. There's a lot to see and take in, but somehow none of that matters if you're miserably hot. So do yourself a favor and go early! Unless you happen to be in Cairo on a Sunday or Thursday, when the museum is open for an extra few hours in the evening.
Opening hours:
Monday - Wednesday 9am–5pm
Thursday 9am–5pm, 5:30–9pm
Friday - Saturday 9am–5pm
Sunday 9am–5pm, 5:30–9pm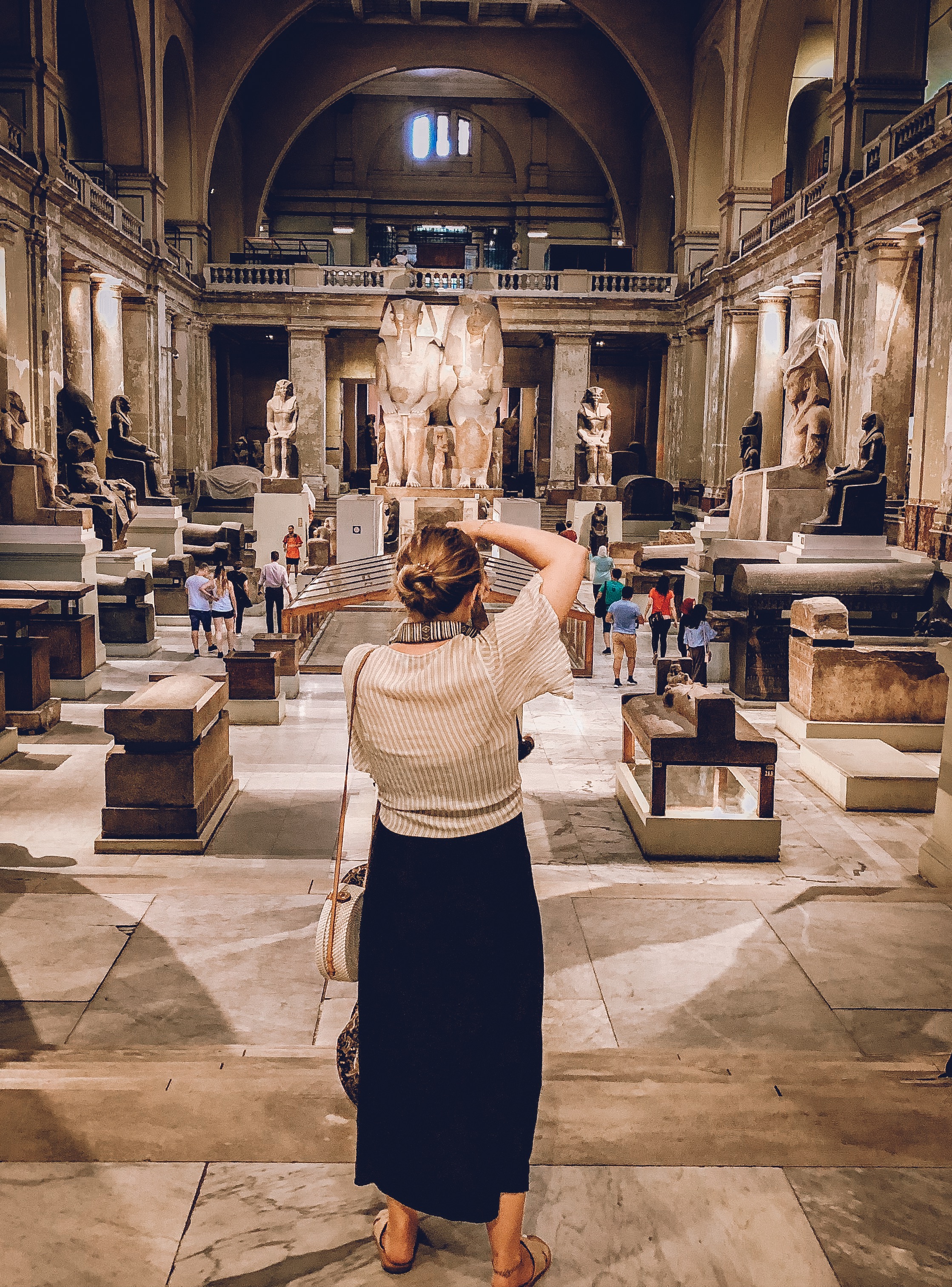 Afternoon: The Market
After your visit to the museum, make your way to Khan El Khalili, the famous market maze in Cairo! You could spend hours getting lost in its alleyways. Unlike the souks in Marrakech, I found you have to dig a little deeper for quality finds here, but it's definitely worth a visit anyway! Don't forget to barter if you do decide to buy something, and if you simply want to walk around for the experience, make sure to stop into one of the hidden cafes for lunch or a cold drink.
Dinner
There's no need to argue about where to go for dinner, there's really only one option if you ask me: Abou Tarek, arguably the most famous restaurant in Cairo, beloved by locals and Trip Advisor alike. The menu is short, one dish to be exact, but it's better to whole ass one thing than half ass two things, right? Abou Tarek serves koshary, a traditional Egyptian dish consisting of different types of pasta, lentils, chickpeas, fried onions, and a tomato salsa served with a garlic dressing and chili sauce you can add to taste at your table. It sounds simple, but less is more with this meal. It's a delicious and filling combination that Abou Tarek makes masterfully. And the best part is, despite it's popularity, Abou Tarek is incredibly cheap! We bought two dinners and two sodas for $3.50 USD (about 62 LE)!! For all of those reasons, this was by far my favorite meal in Egypt.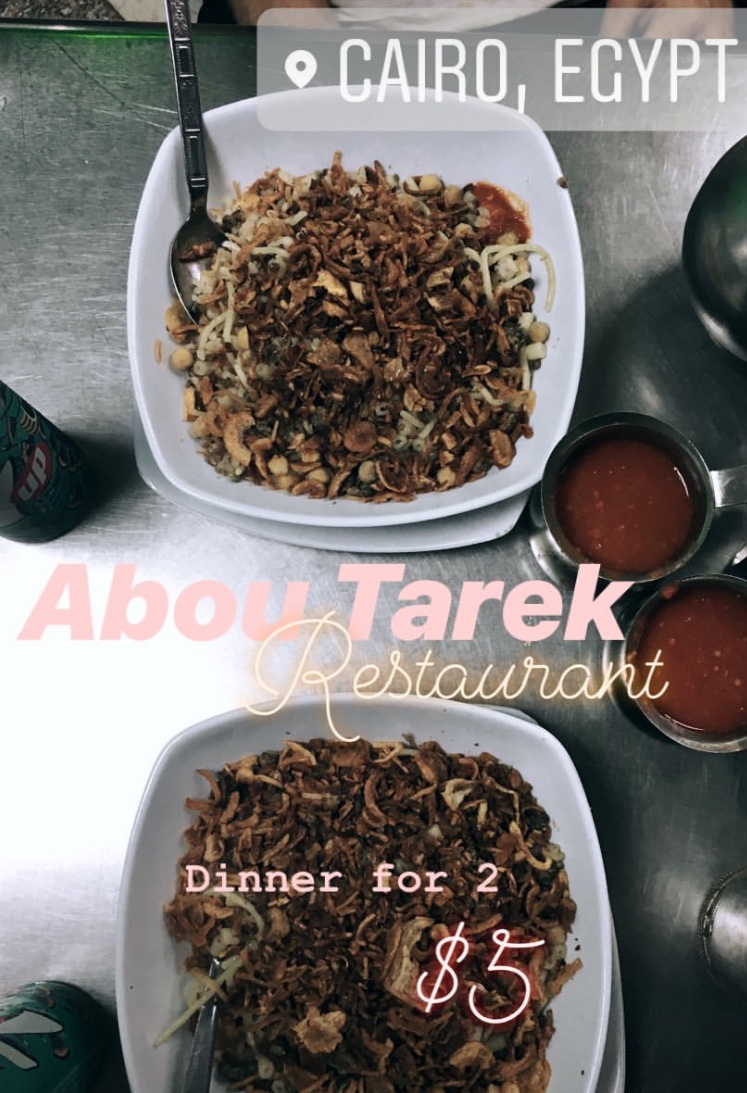 Outside image of restaurant by © Andrew Shieh/Flickr
Late Night
Cairo is a great city for night owls. Egyptians are on a different schedule than us Westerners and tend to sleep in and stay up late, a habit that can be really fun for energetic tourists! Buildings that appeared to be abandoned earlier in the day transformed into restaurants that poured out into the streets at night. Markets popped up and people filled every empty space available, making it difficult to navigate through the sea of bodies. It is exhilarating and intimidating all at the same time. There's plenty to do, however I preferred to get away from the madness and watch it from above. Our tour guide turned friend took us to his favorite roof top bar for a hookah and beer session. Rooftop Zamelek is situated atop a seemingly abandoned apartment building (most buildings appear this way in Cairo) overlooking the Nile. The view, especially at night, is spectacular and the ambiance is relaxed and fun, not at all snobby and pretentious. I don't personally recommend hookah as it's arguably worse for your health than cigarettes, but when in Rome I guess! Apparently the hookah here was the best in Egypt, according to those who partook. Once we had our fill of beer and coffee and hookah, we went back to our hotel and fell asleep listening to the cacophony of the streets below.
Day 2
There's really only one thing on the itinerary for today and I'm sure you already know what it is: The Pyramids! As the most iconic image of Egypt and one of the most recognizable destinations on Earth, the pyramids are probably the main reason you want to visit Egypt. So make sure you do it right!
Get there early. You'll want to make sure you get there before the hoards of tour busses arrive and the heat becomes excruciating. I believe the opening hours are 8:30 am - 4:00 pm. Plan on getting to the entrance gate around 8 am to claim your spot in line.
Don't go inside. You can pay extra to go inside one of these pyramids, which sounds incredibly exciting. If you're keen to be able to say you've been in one of the pyramids, then maybe the price of entry is worth it for you. However, literally everyone I've talked to, including our guide, recommended saving that money for the much more impressive Valley of the Kings, where the tombs are better preserved.
Get a guide. Ahead of time. There's so much history in Egypt and so much mystery around the pyramids that I think it always pays to hire a guide, however because of the current socioeconomic distress in the country, there are always random people looking to make an extra dollar by offering themselves as a guide to gullible tourists. Do yourself a favor and plan ahead of time.
Climbing on the pyramids. I've read mixed things on the internet about whether or not people are allowed to climb on the pyramids, so I'll just speak from experience. When I visited in 2018 we were allowed to climb freely to a certain height on the pyramids. Guards were on duty to make sure we didn't go above the allotted area and had no problem yelling at us to get lower if we breached the invisible wall of no return. I did climb on the pyramids, was it the right thing to do? I don't know. Should we be treating these ancient relics with the utmost respect? Absolutely. Is climbing on them respectful? Probably not. 🤷🏼‍♀️ Whatever you decide to do in regards to climbing, getting up close and personal with the pyramids is the only way to truly appreciate their size. Each building block is as tall as a person, just as wide, and completely solid. Honestly, HOW DID THEY BUILD THESE THINGS?!
The Sphinx. Okay, I feel like I should have known this ahead of time, but the sphinx isn't that big and it's not that close to the pyramids. Yes, you can see the pyramids in the background but to get to the sphinx you have to exit the pyramid area, so make sure you're ready to leave when you decide to go to the sphinx!
Camels and horses. You can rent horses and camels to ride, as well as carriages to take you from pyramid to pyramid. I won't pretend to be all high and mighty and above the temptation to hop on a camel for the perfect photo, I rode one for 3 hours in Morocco. However, that particular experience more or less scarred me for life and I don't recommend supporting the use of these animals for tourism. A lot of the camels are covered in scars caused by decorative cutting and most of the horses are severely underweight. Obviously the choice is yours, but I decided to forego the traditional "camel ride in front of the pyramid" picture because I ethically can't support it. If you agree, please remember that even paying for a picture with a camel and not riding it, still supports the industry and contributes to the use of these animals for our entertainment.
Photos. Let's be real, you want good pictures of the pyramids. While the best experience is up close and personal, the best photos are far away. There's a designated photo area where you can also rent a camel that your tour company (if you have one) will most likely take you to. This is a good place to get photos, but the best pictures I've seen have been from people who go off the beaten path and find the best angles on their own. It's harder to get a good photo of the sphinx. My biggest regret of the day, and the reason I don't always appreciate the pushiness of group travel, is missing the photo of a lifetime and the one I thought I'd get. I naively thought the best photo would be inside the entry, but I was wrong. In my opinion, the absolute best picture of the pyramids is just before the entrance to the sphinx where you can see the statue straight on with the pyramids in the background. Don't rush from one site to the next, take your time and take pictures along the way! Especially here!
The light show. Don't do it. Being the budget travelers that we are, having to pick and choose experiences, we sat this one out. And I'm so glad we did. I had serious FOMO watching people leave for the night light show on the pyramids, cursing myself for not living in the moment and forgetting the budget for the night. However, we had the last laugh when everyone returned incredibly disappointed with their experience.
Spend as much time as you can at the pyramids because it will most likely be a once in a lifetime experience. When you're finished, instead of heading back to the craziness of Cairo, check into a luxury hotel nearby. The hotels in Egypt are incredibly nice and very affordable for what you get. We stayed at the Oasis Hotel Pyramids and enjoyed our stay very much. You can spend your afternoon lounging by the pool, treating yourself to a cocktail, and some good old fashioned air conditioning!
Cairo at a Glance
Where to stay If you have the funds, I definitely recommend staying in Zamalek, an affluent district located on Gezira Island. You can also find big name hotels on the waterfront and near the Egyptian Museum. We stayed in the cheapest hotel in Cairo (literally) and well, you know the saying, you get what you pay for. But if you're on a budget, New Palace Hotel was incredibly affordable (private room for $10USD a night) and included a small breakfast.
Where to eat Abou Tarek: popular, local, authentic, vegetarian, cheap. Rooftop Zamalek: hookah, drinks, view, local. Street food: questionable, but always worth a try. Bakeries: head to a local bakery for some yummy pastries and a great way to fill up without spending too much.
Budget As a tourist, Cairo can be expensive. They know how to make money off of people who might feel out of place and want to pay a little more to be a little more comfortable. That being said, the city itself is pretty cheap. Meaning, if you eat and sleep like a local, you can get away with a very low budget. We spent: $10/night for a private room in a hotel/hostel, $2.50 for lunch, and $3.50 for dinner (all in USD), so $16 a day for 2 people. That's pretty cheap! But remember, that doesn't include any transportation (we walked everywhere) or activities (literally everything costs money in Egypt). On the other side of the spectrum, the more comfortable side with clean sheets and bathroom doors, you can expect to spend anywhere from $50 to $200 a night depending on your hotel preference and upwards of $15 for lunch if you get stuck in a tourist trap buffet. I recommend going to Cairo on a medium sized budget of $150/day for 2 people.
Getting around UBER! Cairo has Uber and it's a fraction of the price of a taxi. I was hesitant at first, feeling uncomfortable in the city and what not, but when a $25 taxi turned into a $5 Uber, I was all for it. Make sure to arrange an airport pick up with your hotel to avoid stress and overpriced taxis upon arrival, but an Uber to the airport for your departing flight will be the cheapest option.
Safety I never felt unsafe in Cairo, although I never felt comfortable either. Just like any other busy, unknown city, you should stick to crowded areas and avoid dark alleyways. Be polite to the locals, even when they aren't polite to you, as the men seemed to take offense when we got slightly more assertive in declining their services, after telling them numerous times we weren't interested in whatever they were selling.
Culture Egyptians are forward thinking in terms of technology and fashion. Unlike some other Muslim countries that require conservative dress and aren't open to photography, you'll likely see Egyptians taking photos of themselves dressed up for a night out, the women often wearing Western fashions. However, Egyptians are seemingly much less used to visitors than some other Muslim destinations and it shows as you wander the streets. Walking around Cairo was an eerie experience, as we were the only tourists in the city (we literally didn't see any other Westerners until we got to the pyramids). Every single head turned to stare at us, people took pictures of us and asked for photos as well, children would spot us sitting in a restaurant, come in for a look, then wait for us to leave and bombard us with selfies and questions. We met a few curious people, mostly kids, who just wanted to introduce themselves and welcome us to their country. I really enjoyed meeting people that way and respected them for approaching us and building bridges between our two cultures. I did not, however, appreciate the people on the other end of the spectrum who did the opposite, staring and taking pictures only to point out our differences. It was so overwhelming at times that we didn't enjoy being outside. We were out of place and every single person, all 10,000 of them, made it obvious with their stares.
Hopefully this helps you navigate your way through Cairo. Even though it's not my favorite city, there are a few once in a lifetime destinations there that can't be missed!