Road Tripping Australia's East Coast
The thing about road trips is you spend most of your time in a car. This seems obvious, given the name "road trip," but somehow its meaning was lost on me. When I think of road trips, I think good music, bad for you food, windows down, and lots of laughing. I basically picture a music video in which beautiful people drive along the coast during sunset, sipping on coca cola, stopping for bonfires, and joyously singing into a camera. Our road trip, to my surprise, was nothing like that.
We had 5 weeks to get from Cobbold Gorge (far north Queensland) to Sydney. It seemed like more than enough time, since most travelers do it quicker. It was not enough time. There's so much to do and see on the East Coast, and in 5 weeks (driving almost every day), we barely scratched the surface. In fact, as you might have noticed, after the Whitsundays everything started blending together. I didn't feel the need to post as often because it didn't feel like we were doing anything significant. We'd stop to do a tour here and have a picnic there, but we drove so much and so often that it was hard to differentiate between pitstops that were meaningful, and those that were simply necessary for food or sleep.
I got lazy with taking pictures and didn't feel inspired to write. It wasn't until we arrived in Sydney and started sharing stories with friends that I realized we actually had done some pretty amazing things. I don't want to remember my trip down the East Coast as one long car ride. I want to remember the gorgeous coast line, the change in environment as we got further south, all of the hilarious places we stopped to make lunch. I believe we have control of our memories, after all, their just stories we tell ourselves. And the best way to make these memories stronger, is to tell the stories to other people, really solidify them by saying them out loud. So here it is: a compilation of photos and blurbs from our road trip; a scrappy blog post of a scrappy holiday. Enjoy.
One of the many waterfalls we chased along the way.
Eungella National Park. I wish I had more and better pictures of this place because it was one of my favorite places in Australia so far. The drive in was beautiful, the hikes were stunning, and the swimming holes were refreshing.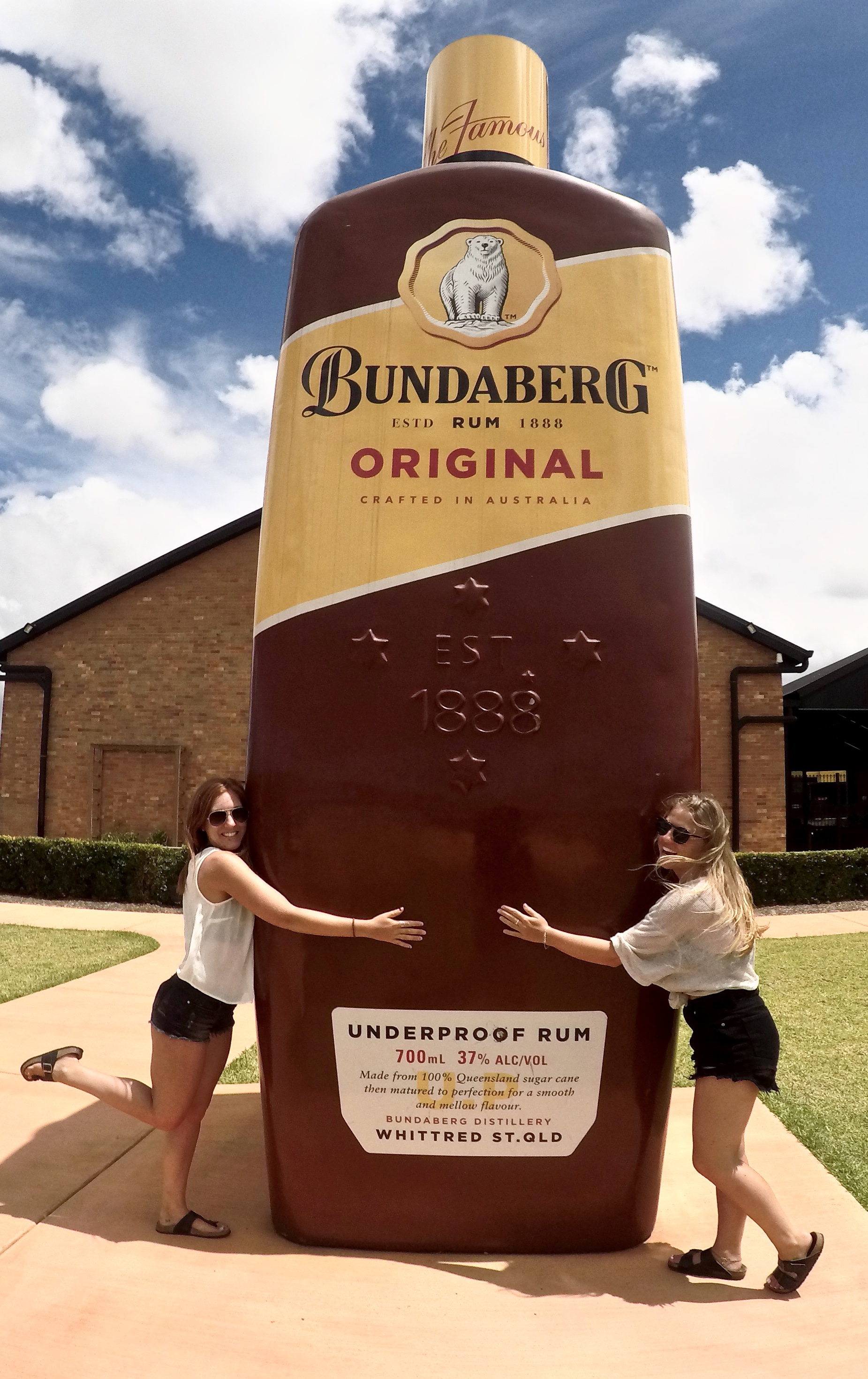 Rum tasting at the Bundaberg Rum Distillery in Bundaberg, QLD. A surprisingly good tour with surprisingly good rum.
We took a two day, overnight four wheel drive tour of Fraser Island, the world's largest sand island. We took turns driving over sand roads and on beaches throughout the island, but unfortunately for us, the weather was cloudy and dreary. We stopped at fresh water lakes only to sit beside them and our free time was spent huddled under as many layers as we could find. Nonetheless, we had a great time. We saw the shipwreck, laughed with new friends, and learned that British people don't know how to drive automatic cars, which was fascinating.
Byron Bay and Nimbin. So, in Australia they have something called Schoolies. Schoolies is when all of the recently graduated, recently legal, high school students flock to the coast and drink themselves blind for three weeks. Pretty much every restaurant and hostel we entered was inhabited solely by teenagers. Which would have been really fun if I were 18. But alas, I am not and pounding shots while wearing really tight and uncomfortable clothing just doesn't sound appealing to me anymore. So true to form, Byron Bay was full of children. Which was unfortunate because we were all looking forward to going there. I could see how Byron Bay would be fun if you had unlimited funds for shopping in boutiques and eating a cute, vegan cafes, but on a backpacker budget and with backpacker luggage, those aren't activities we really let ourselves indulge in very often. We did go to a nice yoga class, visit the Stone and Wood brewery, and grab a happy hour drink (or two) at some nice bars. By the time it was time to leave, we were ready. Our next stop was Kempsie, but we wanted to make a pitstop on the way. Nimbin is a counter culture, hippie heaven that all but worships marijuana. It's the kind of place where the shop keepers look at their feet and whisper things like "we sell cookies" and "looking for a joint?" just loud enough for you to hear as you walk by. We put on our hippie headbands and visited every store in the little village before moving on.
There's a lot of hype around the Queensland coastline, mostly because of the Reef, but I found it somewhat disappointing. There are some beautiful beaches, but due to the massive amount of things that want and can kill you in the water there, you can't swim in any of them. I was beginning to think, and don't judge me for saying this, that maybe the Australian coastlines were overrated in general. It wasn't until we got to New South Wales, Kempsie specifically, that I really started to appreciate how beautiful this country is. The water here was gorgeous (AND YOU CAN SWIM IN IT!), the weather was amazing, and I didn't have to say "unfortunately for us" once. It was an amazing spot and we had such a good time visiting our old bosses and good friends, Pam and Theo, and their dog, Billy!
I started this blog with the intention of sharing amazing pictures of amazing places and sharing amazing insights about this amazing adventure we all call life. But life isn't always as amazing as we make it out to be, and lets be honest, our holidays are rarely as perfect as our pictures make them seem. This trip was fun and exhausting and full of fuel stops and grocery stores. It wasn't perfect, but it was ours. And that's all what I want the blog to be: real.